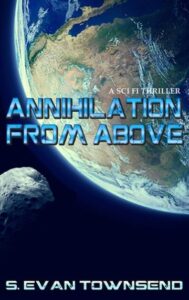 Reviews for Annihilation from Above:
Intriguing Science Fiction Novel
Annihilation From Above is an intense science fiction novel which involves terrorists, global politics, astronauts, and an asteroid which is on a collision course with Earth. The book is fast paced and action packed with realistic characters and a plot which keeps your reading interest. I highly recommend this novel.
Non Stop Action during the 5 days, which include emotion, intensity and more
If you like a gripping, have you on-the-edge-of-your-seat kind of sci-fi novel, this was it! felt like I was right there with everyone. The author didn't take long to introduce the characters, but once you got to know each of them, it was nonstop excitement from there, especially over a five-day window. The characters were relatable, but my favorite was Huang. I did like Drayden and Johnny Park as well. The author had a way of describing the action-packed scenes with intensity. I really liked this book a lot. I'm going to have to recommend this to a few friends that are heavily into Sci-Fi. I tried to write this without spoilers and I wanted to talk about some parts in detail but that would be a spoiler! The scenes involving SWAT and the FBI were done with a lot of feeling and action…
When asteroids, terrorists, and international intrigue collide!
Annihilation from Above is the smart kind of novel we rarely see anymore. It takes place in the not-too-distant future, where terrorism, asteroids, and the bureaucracy of global politics collide. A must read for any fans of informative nuts-and-bolts science fiction.
---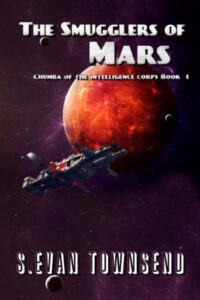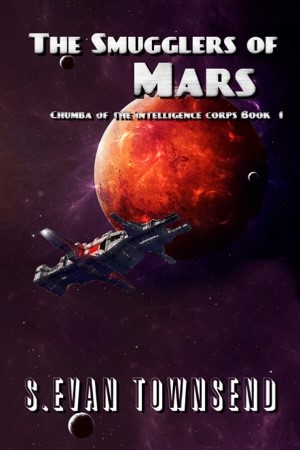 Reviews for
Smugglers of Mars
:
If you love fast-paced sci-fi pulp novels like I do, this book is worth the read
Townsend's 189-page book follows lieutenant Titus Chumba of the Core Empire Intelligence Corps on his assignment to investigate a water smuggling ring on Mars. As the book progresses, so does the pace. The conspiracy grows bigger as Lt. Chumba unearths more evidence during his investigation. From secret assignments to cold war conspiracies against a lizard-like enemy, The Smugglers of Mars is an exciting read.
With danger around every corner and well-thought-out details for every scene, character, and situation in the book, I felt immersed in it. At times I checked how far along I was in my Kindle version of the book. Each time I surprisingly found myself well beyond where I expected to be. Thanks to Townsend, I lost some sleep simply because I didn't want to put the book down.
Solid fast-paced sci fi adventure
This is a great book absolutely jammed with action that grabbed me right from the first line. The levels of spy games are fantastic!
---
Amazing futuristic Crime / Treasure Hunt Novel!
, November 2, 2015
This review is from:

Treasure of the Black Hole (Treasures of Space) (Kindle Edition)
This was such a fun book to read! It's like a futuristic 50's crime novel / treasure hunt complete with fedoras, private investigators and the ever present blonde bombshell.
This book will have you turning pages quickly in a feeble attempt to try and keep up with each new twist and turn. Just when you think you have it…BOOM…. another twist. I LOVED it.
The technology is awesome. This author describes everything so well I could clearly see the entire story play through my head as I read. I especially loved Mr. Townsend's description's of all the different species of sentient beings out there. What a fascinating imagination he has!

More twists than a licorice factory!
, February 16, 2016
This review is from:

Treasure of the Black Hole (Treasures of Space) (Kindle Edition)
This story has more twists than a licorice factory. Townsend usually writes "speculative history" or fantasy/sci-fi, but this novel is a more pure science fiction. I have read several of Mr.Townsend's books, and he has a penchant for action. Never boring, and yet the characters are fully developed and loveable (or hateable…). Couple the action and the plot twists with his sci-fi forte, and you have another winner from Townsend. Looking forward to more in this series!
---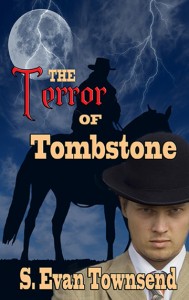 Reviews for The Terror of Tombstone:
5.0 out of 5 starsThe Terror of Tombstone, A Review
Format: Kindle Edition Verified Purchase
Another dark adventure from S. Evan Townsend. A page turner. This author always provides a good read.
Format: Kindle Edition
Whether we remember it from our American History class or whether we've seen it in the movies, everyone knows the story of the OK Corral, and the gunslinger shootout that happened there, involving the Clanton's, the Earp's and Doc Holliday. Now take the truth of American history and juxtapose Townsend characters – adepts and their associates – over reality. It's fun to watch the fictional characters interact with the real characters. This book is a fast paced work with many sudden plot twists. A good read. I read it in 3 sittings.
---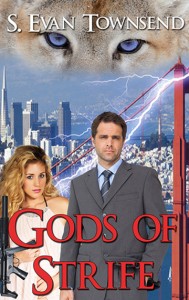 Reviews for Gods of Strife
:
---
---